MTS on sale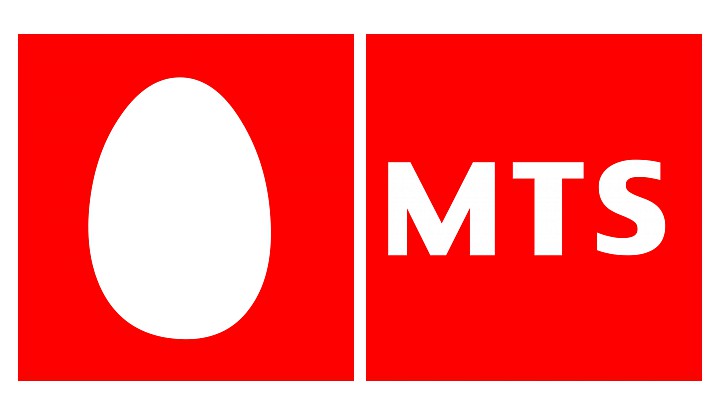 Our group tries to focus our analysis for value investors, who invest for the long-term. Long-term investments are especially successful, when an investor buys cheap good company with solid business, the stocks of which are declining at this moment. Such situation indeed is not so often happens in the current US market, most of the stocks are too expensive for us. However, value investor can find such companies abroad. One of such companies, in our opinion, is Mobile TeleSystems.
Mobile TeleSystems PJSC ("MTS" - NYSE:MBT; MOEX:MTSS) is the leading telecommunication group in Russia, Central and Eastern Europe. Itprovides wireless Internet access and fixed voice, broadband and pay-TV to more than 100 million customers. Their wireless and fixed-line networks cover Russia, Ukraine, Armenia, Turkmenistan, Uzbekistan and Belarus.
MTS as a company has very good profitability indicators. Their ROE equals 29,13% vs. industry's 7,86%. It means that for every equity holders' dollar they make 29,13 cents every year! Bearing in mind that Russian economy is recessing now, we can assume that ROE actually will increase in the future when Russia starts to rise. In fact, before crisis, in 2013 MTS had ROE of 60,79%. Another indicator of good profitability of MTS is net margin and operating margins. Net margin is very high and equals to 12,5 % (higher than 75% of companies in the industry), latterequals to 22,91% (higher than 88% of competitors in the market). Moreover, this number actually declined because of the crisis: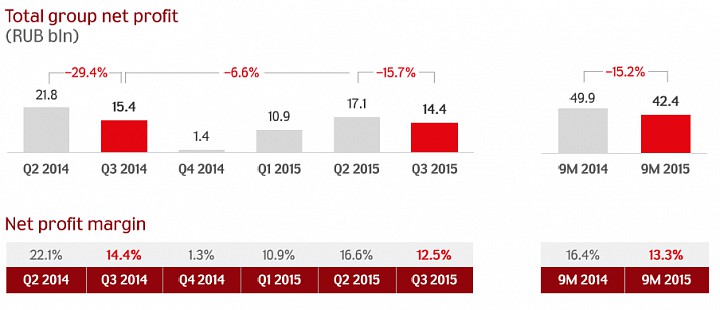 The company increased their revenue by 4,7% by providing cheap handsets in their shops. However, this movement decreased OIBDA (Operational Income before Depreciation and Amortization) as mark-up decreased.
MTS is multinational business, however, its profit, mostly come from Russia and Ukraine. However, MTS tries to expand its business by entering new countries. In the last years they reopened their businesses in Uzbekistan expecting revenue growth in this country. Currently,they experience negative income from this branch. However, this was expected, as new market would likely to have negative income in the beginning, because of the huge costs on marketing and attracting new customers. Revenue growth can be seen here: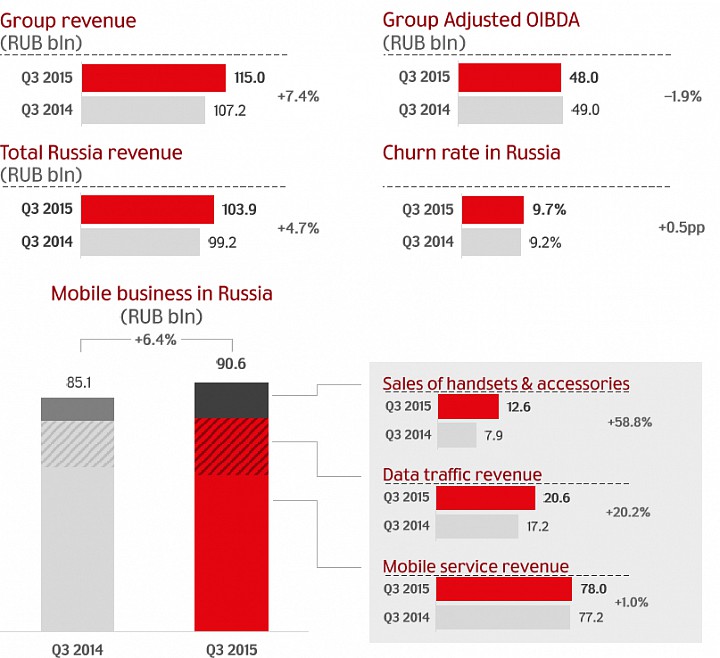 Also, MTS tries to keep the conservative CAPEX policy. Conservative – means that they don't cut off their CAPEX, but remain it stable. We consider this as good policy, as in the period of crisis company can actually increase its market share and make a base for the growth in the future by investing its resources. CAPEX by countries provided bellow: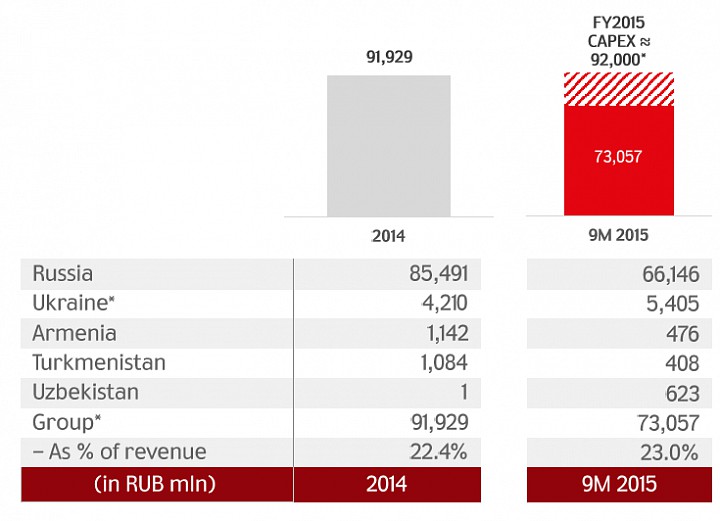 Before this point, we spoke about the pluses of investing in MTS, now we need to speak about minuses. Telecom company usually has high leverage, as their businesses are quite predictable, and this creates "tax shield", However, in the case of MTS, theyhave much higher leverage than average in the industry. You can see:

vulnerable both to the short-term and long-term loans. Also, the company has experienced a downfall in the Free Cash Flow from 64 billion RUB in the first 9 months of 2014 to the 25 billion RUB in the 2015. Moreover, MTS actively increased its debt in the last years:

Trustfully, there are two good aspects of company's liquidity:
1) ROIC is much higher than WACC
2) Negative Cash Conversion cycle
First aspect shows that MTS businesses generate higher returns on investment than it costs for the company to raise the capital needed for that investment. Return on Invested Capital measures how well company generates cash flow relative to the capital it has invested in its business.Therefore, we expect that their value increases as growth increases. We should indicate that ROIC (18,86%) is much higher than WACC (9,28%), which shows the cost of capital.
Negative Cash Conversion cycle shows that MTS sold their mobile phones and received money from them, even when the company had not paid for phones yet. So, there is a little chance that they will run out of cash for operational reasons. Note that, generally, the lower this number is, the better the management of the company is.
There is one interesting, unusual fact about MTS. They have incredibly high dividend yield - 11.7%! Also, their average dividend growth for the last is 13%. Therefore, now we can see MTS company as a great cash dividend stock. They paid dividends from their inception on the NYSE, so it is very likely that they will continue to pay them further. However, in the past dividend yield fluctuated, so we can't guarantee this extremely high dividend yield in the next 10 years. However, we can calculate dividend growth for the smaller horizon - 3 years and using 5-year dividend growth rate - 3.9%:
Investors can be guaranteed as the company writes in their annual reports this:
"The Policy "MTS Activities in the Field of Corporate Social Responsibility" is aimed at supporting the Company's business strategy and since 2014, has been based on the principles of the three Ds1: Data, Differentiation, Dividends."
We, of course, are mostly interested in the latter D.
At this moment, we need to speak, why we think that MTS is a cheap stock. There are two indicators, which show undervaluation of the stock: low P/E and low PEG. P/E of MTS is 4.96 vs. industry 18.7. The lower P/E the more the stock is undervalued. PEG of MTS equals to 0,375 (based on 5 year period) vs. Industry's 2.03. Generally, PEG lower than 1 indicates that the company is undervalued. So, as we indicate undervaluation we can estimate the fair value of the stock:

As we can see, margin of safety volatiles between 26% and 68%. So, we see this stock as undervalued, and it is shown by using different methods. Undervaluation occurred because of the external factors. In 2014 the US government imposed sanctions on Russia, so many investors started to sell their stocks of Russian companies. This massive selling caused a major decline in almost all stocks of Russian companies. This panic created big irrationality, which as we think can be used by value investors. The impact of this panic can be seen on this graphic: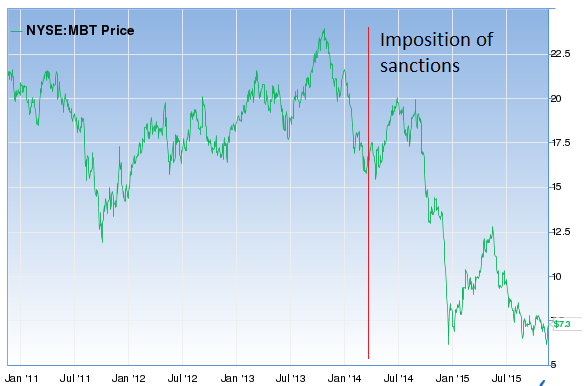 The Russian economy is not hurted so much, as investors think. We believe that with recovery of the Russian economy, prices of companies will increase. However, this recovery can start not very soon, so short-term/mid-term investors shouldn't engage in such type of investments. For long-term value investors, who reconcile with the fact, that they will hold stock for several years until it show first major gains, it is a great opportunity to buy cheap stocks of solid companies.
Our Recommendation:
MTS is a highly profitable company, which pays big dividends and will likely increase profits in the future further. This company is now traded at a big discount. Therefore, our recommendation:
STRONG BUY