Elevate to IPO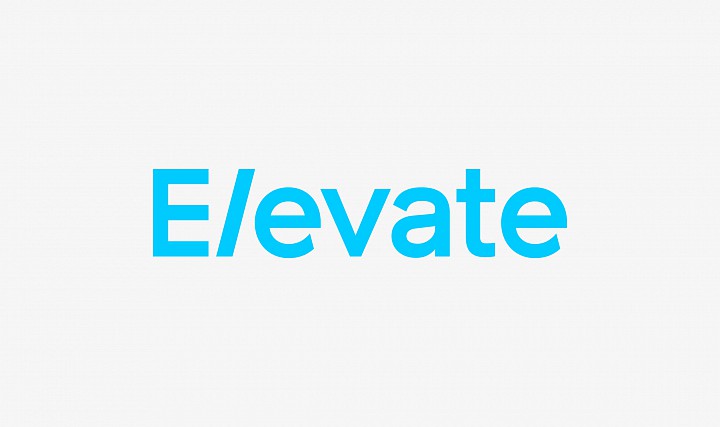 Summary
Revenue of Elevate Credit grew by 67% in the last 9 months
Operational Performance of the company has been improving during the last three years
Current line of the products appeared only in the 2013
The company operates in a high-risk business
Huge money can be made on the IPO, and huge money can be easily lost. IPO stocks are generally very risky, as investors know little information about companies. They generally don't have a lot of historical data about company. Therefore, fundamental and technical analyst cannot really make any reasonable judgment about future trend of the price of shares. Value investors consider purchase of IPO stocks not as investment, but as speculation. All of these facts can make you avoid purchasing the IPO stocks. However, almost any investment can be regarded as beneficial and safe, if it has reasonable price. We wanted to show how to use this principle in practice. Our today company is Elevate Credit. We don't know how much stock it will issue and at what price.Therefore, we can value company, and make some borders for market value of company. So, what kind of company Elevate Credit is?
Company Overview
Elevate Credit provide technology-driven online credit solutions to non-prime consumers, typically defined as those with credit scores of less than 700. They use advanced technology and proprietary risk analytics to provide responsible financial options to customers, who are not well-served by either banks or legacy non-prime lenders. Elevate currently offers online installment loans and lines of credit in the United States and the United Kingdom. Their line of products consists of 3 products:Rise, Elastic and Sunny. Here is more information about these products:

As they work with potentially dangerous auditory, they have very high APR, in order to compensate related risks.
They define their clients as part of the "New Middle Class". "New Middle Class" is middle-income class and has a mainstream demographic profile, in line with the average of the populations of the US and UK, respectively, in terms of income, educational background and homeownership. They state that their potential market consists of 170 million consumers in the US and UK.
Company itself is very young. Current line of products was created only in the 2013. Elastic Credit was created through the Spin-Off of the direct lending and branded product businesses of TFI. TFI was founded in 2001. Prior to the Spin-Off transaction, TFI had two discrete lines of business: a) a direct lender and branded product provider to non-prime consumers; and b) a licensor of its technology platform to third-party lenders. In order to allow each of these separate lines of business to focus on its relative strategic and operational strengths and future business plans, the board of directors of TFI decided to spin off its direct lending and branded products business into a separate company.
Company filled documents at 11/9. They expect to receive around $100 mln. Company's shares will be traded in the NYSE and have ticket "ELVT".
Elastic Credit is an interesting choice for investors, as they have experienced rapid growth since foundation in 2013. Rise, Elastic and Sunny, together, have provided approximately $1.2 billion in credit to approximately 450,000 customers and generated strong revenue growth. Their revenues for the year ended December 31, 2014 grew by 280% to $274 million from $72 million for the year ended December 31, 2013 and revenues for the nine months ended September 30, 2015 grew by 67% compared to the nine months ended September 30, 2014.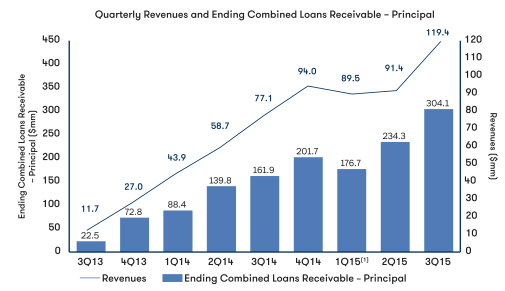 Financials. Profitability
We should mention that Company is not profitable from the beginning until nowadays (in the Q3 of 2015). They experience losses since the foundation in 2013. That was bad news. Good news is that they continually improve situation. You can see this: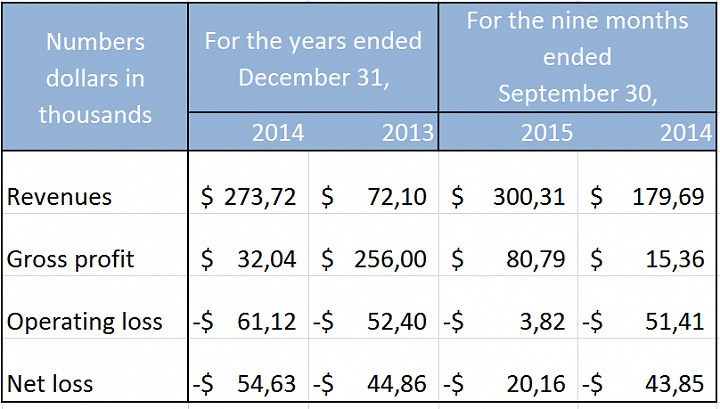 Company's net loss decreased substantially during last 3 years. Comparing YOY change, their net loss decreased by more than two times. In the same time they almost become operationally profitable. This shift becomes even more dramatic, if you note that in the previous first 9 month of the year, operational loss was 50 million dollars. Gross Profit also rose by more than 5 times. All this indicates recent boost in profitability of the company.
However, company still is not profitable, so we can't use for comparison such ratios as ROE, ROA, Net Margin, ROC and etc. But we can analyze some specific metrics relating to industry and company. Company, in the S-1 filling, provided following information.

Customer acquisition cost is lower in 2015 in comparison with the 2014, but higher than in 2013. Management team appointed, that they expect this metric to be in the range between 250-290$ in the future. They also state this:
"We expect that our operating margins will continue to expand over the near term as we lower our direct marketing costs and operating expense as a percentage of revenues while continuing to maintain our stable credit quality levels.... We aim to manage our business to achieve a long-term operating margin of 20%, and do not expect our operating margin to increase beyond that level, as we intend to pass on any improvements over our targeted margins to our customers in the form of lower APRs. We believe this is a critical component of our responsible lending platform and over time will also help us to continue attracting new customers and retain existing customers."
This statement also explains, why companies APR decreased in the last 3 years. This happened, as they improved their loan portfolio and it resulted that the less risky borrowers now have bigger part in their total portfolio.Other numbers related to size of originations have clear upward trend. So, the average customer loan balance increased by 19% from the prior period, totaling approximately $1,500. We think that this trend in average customer loan balance to continue as loan portfolio of company continues to grow and mature with more existing and repeat customers.
Financials. Liquidity & Quality of the Portfolio
For the company, which constantly gives loans to the non-prime borrowers, liquidity issue may be the most important. It is obvious, that company will have much higher level of charge-offs and provision for loan losses than traditional banks. As we stated, such risks usually overcome through very high APR.
Now we need information how charge-offs change through time. Elevate, in its S-1 fillings, provided such information:

You see that their charge-offs take half of their revenue. It is very high number. Also, there is no clear trend can be seen. However, total provision for loan losses as part of revenue declined from the 58% in the 2013 to 54% in the 2015. Also, Loan Loss Reserve as percentage of loan receivables reduced from 21% to 20%. These changes are quite small, so we don't expect that these metrics will change dramatically. Recoveries are typically less than 10% of the amount charged off, and thus, we do not view recoveries as a key credit quality metric.
Additionally, we should look at cumulative credit losses by vintage as a percentage of combined principal-originated. As table below shows, cumulative credit losses for each quarterly vintage since the third quarter of 2013 (with the launch of Rise and Sunny) have trended under 20%.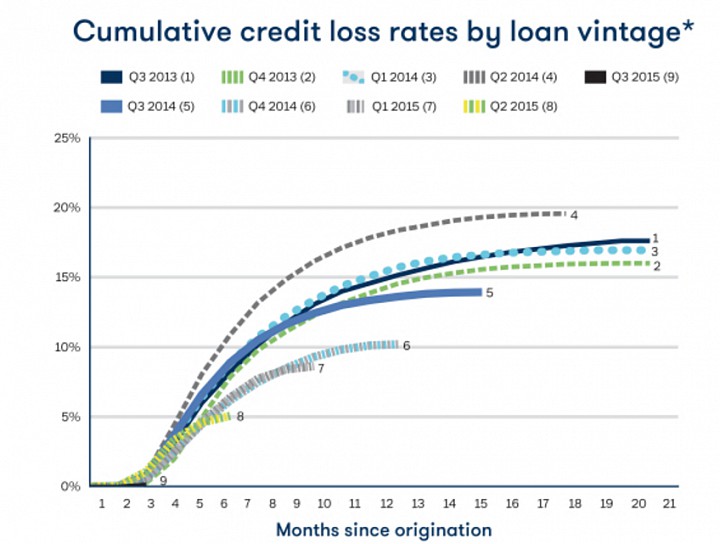 There is also more traditional metric for measuring liquidity of the company. So, Current Ratio of company has clear upward trend. It increased from 0,83 in the 2013 to the current 2,07. This level of Current Ratio is quite healthy and slightly less than industry median, which equals to 2,13.

Also, we see that company has positive increasing operational cash flow. Using operational and financial activities, it funds their investments. Such picture is quite common for young growing companies. Therefore, we don't see something unusual there. Bad fact is that, despite positive operational cash flow, Elevate Credit Company has negative Free Cash Flow. But it increased from minus 42 million dollars in the first nine of the 2014 to the minus 25 million dollars in the 2015:

We expect that they will soon have positive free cash flow.
Financials. Solvency.
Prior to the 2014 company didn't have any long-term debt. However, then they started to leverage heavily their firm.
Now their total contractual obligations reached the level of 300 million dollars. So, their D/E ratio increased from zero to the 9,6 for the last 3 years. Basically, company funded their growth by taking new debt. Now, company need to repay this debt. Therefore, Elevate Credit will use proceeds from the IPO to pay long-term debt.
This long-term debt will mature in the next 3 years. This is not so big time period, so it is quite important for them to receive money from the IPO.

Current leverage of the company is too big and risky, as their Equity/Asset ratio equals to only 0.08, which is more than 5 times smaller than Equity/Asset ratio of the industry (it equal to 0,43).
Interest coverage ratio of the company is essentially negative as both EBIT and Net Income is smaller than zero. Yet, we can use operational cash flow instead of EBIT. This measure is not standard and we should use it with caution.So, our non-traditional Interest Coverage ratio increased from 1,7 in the 2014 to 3,4 in the 2015.
However, it doesn't change conclusion, that company now is over leveraged.
Financial. Margins
Margin Analysis can give good insight about the efficiency of management. If management of the company consistently reduces operating expenses as a percentage of revenues, this means that management doesn't spend too much money and increase efficiency of business. As we can see the management improves the efficiency of the company:

For the first nine months of 2015 operating margin was minus 1%, better than minus 22% for full year 2014 and better than minus 29% for the first nine months of 2014. This increase was due to a decline in both additional provision for loan losses and direct marketing costs as a percentage of revenues, as well as to a decline in operating expenses as a percentage of revenues. Direct marketing costs declined to 16% of revenues for the first nine months of 2015, from 23% a year earlier, driven by more efficient marketing spending resulting in a lower CAC on increased new customer loans, which grew up by 19% for the first nine months of 2015 compared to 2014. The efficiencies were also derived from increasing revenues and average combined loans receivable – principal increased by 89%, while direct marketing costs were increased only by 14%.
Operating expenses as a percentage of revenues declined from 37% during the first nine months of 2014 to 28% during the first nine months of 2015. A majority of operating expenses are compensation and benefits associated with employees. Approximately two-thirds of TFI's employees moved over to Elevate in the Spin-Off, as these employees were involved with the direct lending business.
Huge operating expenses, therefore, linked with the launch of the new products. As positive trend will continue, we believe that operating expenses as a percentage of revenues will continue to decline.
Management
We can measure management of the company by quality factors. Such measurements can't be very accurate. It makes this part of the analysis one of the most ambiguous part. This creates a lot of problems, as quality of the management of the company determines all other future indicators.We have already appointed that company is very young, so we have limited instruments to measure quality of the management. There are several factors, which state that management of the company is quite qualified.
Management team has extensive experience in managing defaults through the most recent financial crisis. So, they provided $2.6 billion in credit to 1.3 million non-prime consumers since 2002. As the following chart indicates, Elevate's management team delivered stable credit quality through the recent financial crisis. The chart below also presents the levels of volatility experienced by the credit card industry over the same period.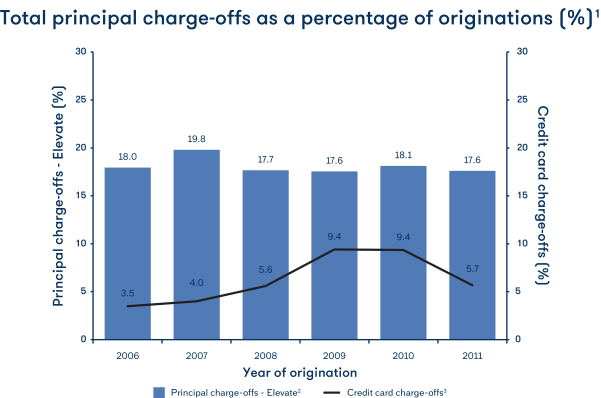 We see that management team of Elevate Credit, has stable rate of charge-offs, when credit card companies level of charge-offs increased more than two times in the time of the financial crisis. This can be explained by qualified Risk Management of the company, which is the next factor.
Elevate Credit has a team of over 35 data analysts in Risk Management department including 25 staff members with advanced degrees and ten with PhDs. Advanced Analytics team is primarily focused on analysis of new (typically non-traditional) data sources and analytical techniques. This fact gives them an on-going competitive advantage in the market which company to scale business while providing savings back customers in the form of lower rates.
Final factor was discussed in the section above. Management of Elevate Credit continuously increases efficiency of the company.
Risks
Elevate Credit give loans to non-prime borrowers through internet. In the 2007 major banks already collapsed because they gave a lot of loans to non-prime borrowers. As probability that non-prime borrowers will not return money again is non-zero. A lot of investors will avoid companies, which work in such spheres, because only of this 2007 crisis.
So, company generally has several sources of major risks:
Their methods of online credit scoring will not work, as information provided by customers to company is incorrect or fraudulent, Therefore will lose ability to effectively identify, manage, monitor and mitigate fraud risk on a large scale, which could cause substantial losses in the form of harmed operating results, brand and reputation.
 The consumer lending industry continues to be subjected to new laws and regulations in many jurisdictions that could restrict the consumer lending products and services, which offered by company. Therefore, company will likely take additional compliance costs. This possibly can made company prohibit current operations.
Elevate Credit currently depend on debt financing to finance most of the loans they originate. If company lose ability to raise money in the future at acceptable prices, it will likely decrease loan originations. Disruptions in the credit markets, which also could reduce their access to credits.
Because of the non-prime nature of company's customers, they have historically experienced a high rate of net charge-offs as a percentage of revenues. In the time of financial crisis, which will come soon or later, their ability to stabilize level of net charge-offs will play major role. It off-course depends on the quality of management and proprietary credit and fraud scoring models in the forecasting of loss rates. If company is unable to effectively forecast loss rates, it can easily increase level of net charge-offs in the time of financial distress.
Company has a limited operating history in an evolving industry, which makes it difficult to accurately assess their future growth prospects. Our forecasts can be totally wrong, because of the new factors, which can appear in the future with non-zero probability.
Additionally, we interested in the interest – rate risk of the company. Some, investors thinks that Elevate Credit is Lend Short-Borrow Long type of the company, so they will benefit from the rising interest rated in the short-term. In fact, it is not true. There is reason for that, as their entire customer loan portfolios are fixed APR loans and not variable in nature. The high APR is already is very high now. Therefore, we don't really think, that there is any interest rate sensitivity associated with Elevate's customer loan portfolio.
On the other hand, company's long term debt is variable rate in nature and tied to the 3-month LIBOR rate. Thus, any increase in the 3-month LIBOR rate will result in an increase in net interest expense. We can estimate increase in the net interest expense. Based on the average outstanding indebtedness through the nine months ended September, 30 2015, a 1% (100 basis points) increase in interest rates would have increased their interest expense by approximately $1.5 million.
Overall, it seems that company is quite risky choice for the average investor.
Business Model/Competitive Advantages
Loan market is very competitive. However, for many years, market was determined not by consumers, but by companies. Companies usually gave very poor service and borrowers had very bad experience. Situation changed with the appearing of the Internet. Nowadays, potential borrowers can easily go to the huge set of lenders, which could give more attractive service and lower interest rates than ever before.
However, risk management also plays huge part in the company's well-being, if not in the terms of profit growth, but in the terms of safety. Advanced risk management in combination with high-quality service can make new players into the leaders of the market. Does Elevate Credit have such attributes?
We can answer this question by, first of all, seeing how company serves their products to the customers. Company's mission is "Good Today, Better Tomorrow." Company wants products to be "good today" due to their convenience, cost and flexibility. Also, they are interested in helping customers to have a "better tomorrow."
They state:
"Based on successful payment history, rates on subsequent loan can decrease over time, and we provide a path to prime credit for struggling consumers by reporting to credit bureaus, providing free credit monitoring (for US products), and offering online financial literacy videos and tools to help build better financial management skills."
It literally means that they try to transform current kind of risky borrowers into the safe/educated borrowers in the future. Such strategy will work in the long-term and can help company to survive in the upcoming financial crises. It also builds long-term relationship with the current borrowers, which decreases cost of the firm related with the acquisition of new customers.
Also company has an advantage from traditional companies as Elevate Credit has more innovative and flexible technology platform. Their current technology platform provides highly automated loan originations and cost-effective servicing. In addition, their platform is adaptable to deliver online loan products, which makes the process of loan origination much faster to the clients. Most of the loans now, company originates trough mobile devices. This means that company is much more flexible than traditional institutes. Consumers are able to apply using online application, which takes only minutes to complete. Credit determinations are made in seconds and over 90% of loan applications are fully automated with no manual review required. Funds are typically available next day in the US and same day in the UK. They deliver products in the form, which is the most comfortable to borrowers.
As, we have appointed earlier, company uses modern advanced methods of risk analysis.They have developed their own approach to underwriting non-prime credit using segment-optimized analytics. Unlike simplistic scoring approaches that may be adequate for prime and near-prime consumers, Elevate's approach allows them to serve a broad set of customer segments within the non-prime market and across the numerous channels.
So, as you can see, Elevate Credit has the necessary qualities in order to grow further in the market with potential size of the 170 mln people.
Valuation
The most essential part of analyzing pre-IPO Company is valuation. There we can't really rely on the past data and most of the standard techniques can't be used or should be used with caution. In case of Elevation, they have neither positive earnings nor positive free cash flow. Therefore DCF method and its derivatives can't give distinct value.
Therefore, we add 1) P/S method and various derivatives of this method 2) EV/EBITDA method, adjusted to growth.
Firstly, we start with P/S method. In this method of valuation we compare how other companies in the same sector are valued in the public markets.
Though it's rather crude, the rationale is that all companies in a specific sector generate revenue and operate in similar fashion (X% goes to SG&A, X% gross profit margin, etc).
P/S of benchmark can be derived in the various forms also. First of all, we will use P/S of industry. Then we used certain benchmark companies and derived their mean P/S. These two methods are quite easy.
Third method considers revenue growth of the company. We think that P/S for the sector linked with the revenue growth of the company. Revenue growth of Elevate credit differs from industry revenue growth, so we need to adjust P/S value to the growth. Then adjusted P/S value is used for calculation. We named this method – PSG (Price Sales Growth). Third method also can give different result, if you change assumed revenue growth. We used 1) historical revenue CAGR 2) assumed revenue growth, which is essentially smaller than historical CAGR. Why in the second case revenue growth is smaller? Ok, company leveraged their growth, after IPO, it seems logical, that their growth will decline as they will not use such a big amount of the long-term debt.
So, using P/S method we get these 4 possible market values of the Elevate Credit: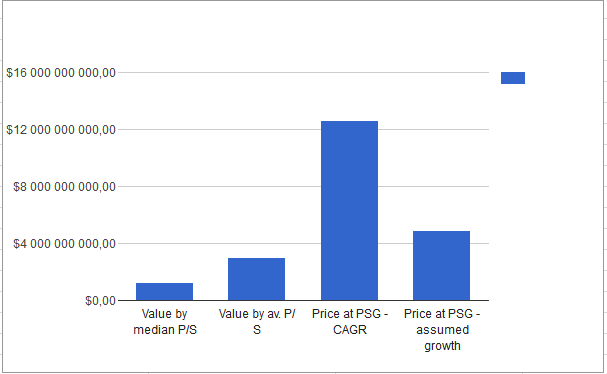 Value of the firm varies from the 12 billion to the 1,2 billion dollars. Such huge deviations seem to be inappropriate to us. Therefore, DCF and P/Gross Cost should give more accuracy.
Using DCF method, we assumed that company will reach positive Free Cash Flow in the 2016 and then will grow by either rate of 1) CAGR of Free Cash Flow or 2) assumed growth rate, which equals to 40%. We used quite high discount rate of 16%, because Elevate Credit has very risky business.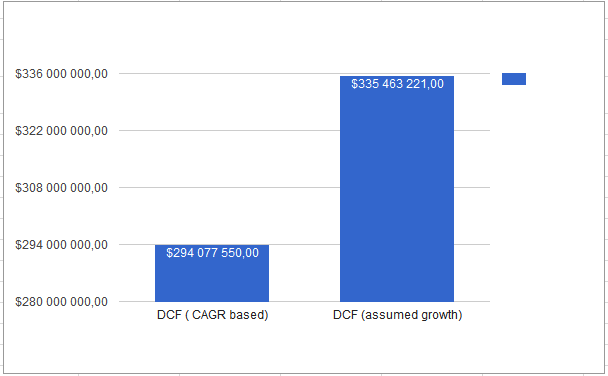 DCF method gave much lower numbers. Now valuation of the company is comparable with the total value of the assets. It seems to be closer to the truth, than value of 12 billion dollars for the company with revenue at the level of 400 million dollars.
In the final method, we calculated Possible Enterprise Value and then added-back cash and subtracted total debt + value of preferred shares. For this case we also used revenue growth-linked value. The result:

Estimated Value of the company lay within the range of the previous methods. Concluding our results, we calculated mean value of our estimations. This number is 3,3 billion dollars. But the result was messed by clear outlier, (12 billion dollar valuation). After excluding this outlier our mean value equals to the 1,7 billion dollars. Also, we can use median number instead of mean. Then, our result will be 1,26 billion dollars.
We think that these two average numbers give results which are close to the reality. So, our suggested value of the company is around 1,2-1,7 billion dollars.
Conclusion
Elevate Credit is a young company, which gives loans to the non-prime lenders. This company has high leverage and net losses. Therefore, Elevate Credit is very risky investment. But there are pluses: it seems that management knows how to make the company profitable and they know how to control credit risk. Company grows very fast and soon will become very profitable. We think that at reasonable price, it can be beneficial deal. As company didn't provide information about the amount of shares, which will be issued on the IPO, we can't predict share prices. Therefore, we suggest looking straight to the market value of the company. If it is greater than 1,2-1,7 billion price, it will be bad deal. Even buying company, at these prices will be non-profitable, as company will be valued fairly. However, if prices of stocks are at low level, we think that Elevate Credit will provide good risk-adjusted returns for their investors.